Teaching students how to search effectively is essential. But letting an elementary student loose on Google makes a lot of people nervous (which is okay). School filters are good, but they aren't perfect (which is also okay, but that's another post altogether). A Google Custom Search Engine is a great compromise. It allows students to use the Google search engine, but it also allows you to limit the webpages and websites that are used for the results. And best of all, creating a Custom Search Engine is easy.
First, head over to www.google.com/cse.
Look for the blue botton that says, "Create custom search engine."

If you're not logged into a Google account, the blue button will ask you to sign in first.
Second, you need to add the websites you want your Custom Search Engine to use. Every time you add a new site, an additional box will appear for you to add another. In my example I've added some sites with good information on planets.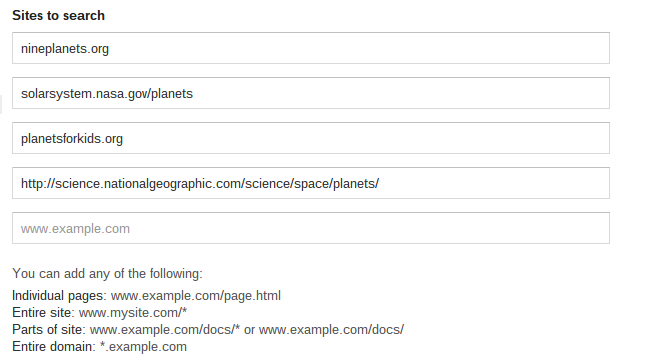 Next, you name the search engine.

Finally, find the blue "Create" button.
That's it! It's ready to go. You just need to get your students to the search page.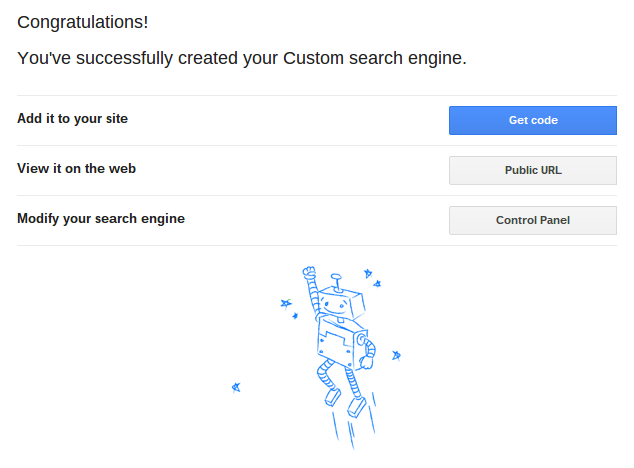 Here Google gives you three options – you can:
Get code – if you want to embed your search engine in a webpage. Google will give you some javascript you can plug into a webpage.
Public URL – if you want to have students navigate to your search engine. It's a long URL so you'll want to find a way for students to not type it all in (email it, put the link on a webpage, make a qr code, etc.)
Access the Control Panel – if you want to go back and change the sites that your custom search engine uses.
When I go to the link for my Planets Custom Search Engine (the link is: https://www.google.com/cse/publicurl?cx=017140682098558138880:20oohmnfel4, I wasn't kidding when I was long), the search page looks like this:

And when I search for neptune atmosphere I get this (only results from the sites I specified):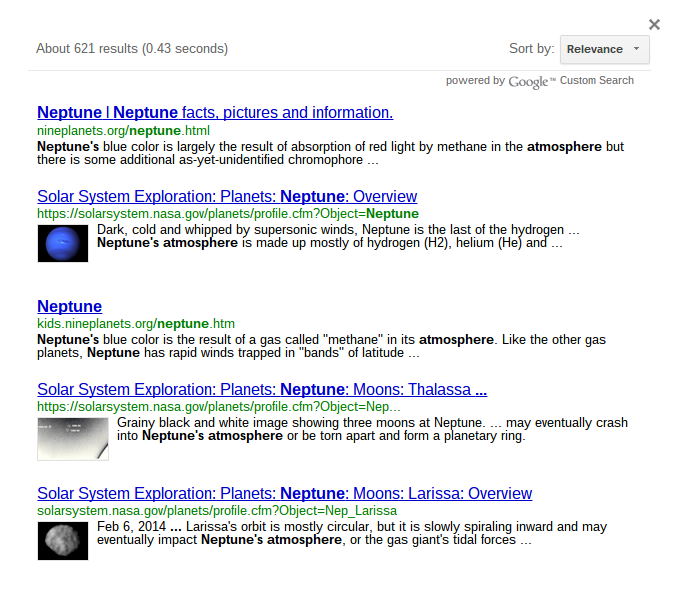 Note: If a student follows one of the search results, and then follows a link from within that page, they can access the rest of the web. The Custom Search Engine only limits the results of the search; it doesn't block students from following links to other sites.
Searching is an important skill. If you can't find what you're looking for in the first page of your search results, you're using the wrong search terms. But keeping our students safe while they explore this is important too.